Why CISSP Certification is hot?
February 19,2019 02:33 AM
CISSP certification is a hot one of ISC certifications. If you do a job in information security domain or you want to find a job in information security domain, you should earn a CISSP certification. We know that CISSP is ideal for experienced security practitioners, managers and executives interested in proving their knowledge across a wide array of security practices and principles.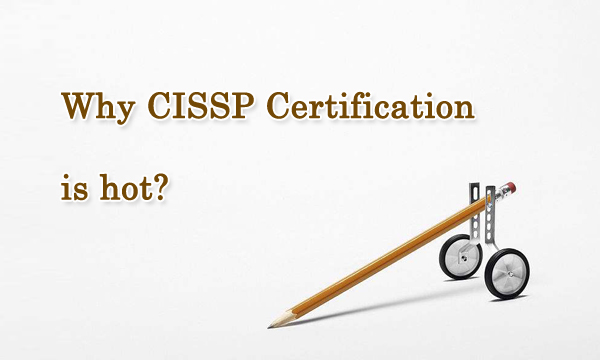 We list the following reasons for you to add CISSP certification to your accomplishments.
Pop Certification
CISSP certification is a hot one for most professionals and highly respected by large companies, such as Google, IBM, and so on. Because CISSP certification can demonstrate your working knowledge of information security. To earn CISSP certification, you need to have 5 years of cumulative, paid work experience in two or more of the eight domains of the (ISC)2 CISSP Common Body of Knowledge (CBK).
High salary
CISSP professionals earn 25% higher than non-certified workers. Many surveys indicate that professionals can earn more with a CISSP certification in hand. The salary is range from $70,000 to $120,000, which is at number 4 of top 15 highest paying jobs.
Various Roles
ISC2 has also stated that the CISSP certification serves as a differentiator for candidates, with the credential enhancing the marketability and credibility of a professional. With the information security become more and more important, holders of CISSP certification can get better welfare package than non-holders
Stability Of Positions
CISSP certification is related to the information security. According to the surveys, information security is among the most stable professionals in IT industry. Over 80% of respondents having had little to no change in their employment or employer status in the preceding year.
If you want to obtain CISSP certification, you also need to consider the following three aspects.
1. Is this certification recognized by the company you work for?
2. Is it worth the time, energy and money you spend?
3. Understand whether the salary can be improved after obtaining CISSP certification.
Besides, if you are in the following positions, you should earn CISSP certification to enhance your career.
If you are in one of the following 11 positions: Chief Information Security Officer, Chief Information Officer, Director of Security, IT Director/Manager, Security Systems Engineer, Security Analyst, Security Manager, Security Auditor, Security Architect, Security Consultant and Network Architect, CISSP is a right certification for you.
Well, online CISSP exam dumps can help you prepare the test. Our CISSP exam dumps are prepared by certified experts, who have years of experience on training IT learners. With our CISSP exam dumps in hand, you can pass the test in the first attempt, and you will not waste your time, money and energy.